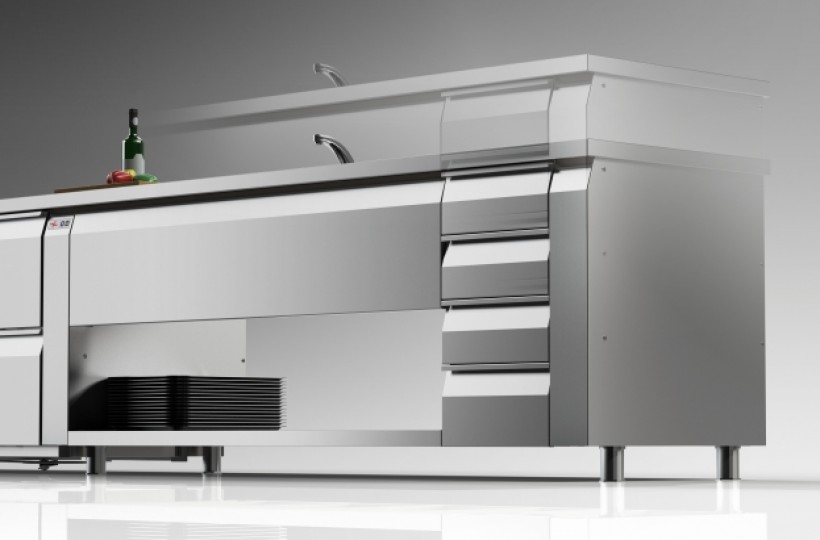 Novameta awarded with SMART Label 2015 for innovation at HOST 2015!
We are pleased to announce that Novameta ERGOBLOK Preparation Station has been awarded with a SMART Label award for innovation and will be exhibited at the Innovation Gallery together with the world's most innovative and advanced HoReCa equipment at HOST 2015 in Milan! The international recognition of Novameta equipment is a result of consistent performance of experienced, professional and extremely ambitious Novameta team!
The new Novameta ERGOBLOK height adjustable prep stations stand out of the crowd with a combination of ergonomics, compactness and literally unlimited design flexibility. Height adjusting functionality allows food preparation at an ergonomic working height which increases productivity and reduces personnel fatigue. Each time these stations are tailored to meet the needs of an individual kitchen. The design has ultimate possibilities – a huge number of neutral, heated and cooling blocks can be integrated allowing for a compact and ergonomic layout of the station.
Novameta cooling counters may also be integrated into ERGOBLOK stations. Among other cutting edge features, these cooling counters boast of a highly effective thermal insulation which is a result of a unique manufacturing process. Thermal insulating material is being injected into a pre-made single-block cooling counter housing to form a uniform insulation, which leaves no gap for the cold to escape. It is the fundamental feature of highly efficient Novameta cooling counters.
The feature-rich and attractive design makes ERGOBLOK station a real eye-catcher in the kitchen. Appealing and sophisticated looks allow these stations to be installed in open-plan kitchens visible to customers.
Back